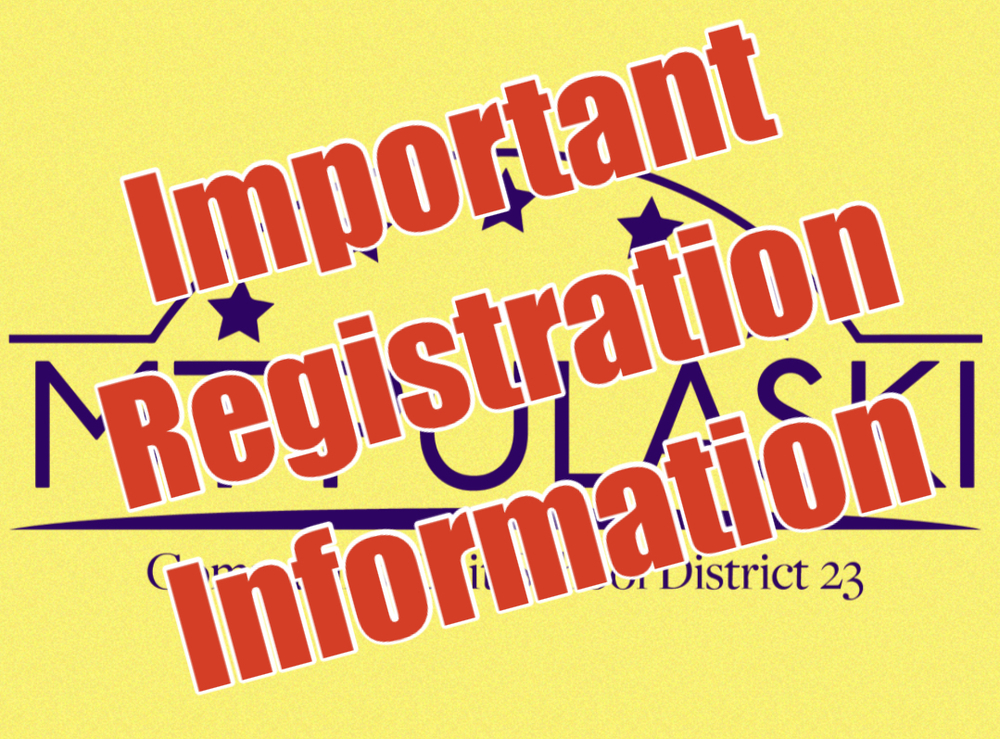 Registration: Information for All Families
Mrs. Fricke
Friday, August 07, 2020
While this article is lengthy, having this knowledge in advance will speed up the registration process, thus decreasing your wait time in the registration line.
All families are required to have 1 adult representative register their student(s) at registration. Please, only 1 adult per family needs to attend. Entrance into the building will require wearing a mask over the nose and mouth. Please follow the social distancing markers and arrows during registration.
The Return to School Plan will be released after the Board meeting on Monday, August 17 (as discussed in Superintendent Lamkey's VLOG this morning). After reading the plan, you will be required to make decisions regarding in-person or remote learning at registration based on the plan. The plan will be posted on our app, website and school Facebook pages on Tuesday morning, August 18. It will also be emailed to all parents with functioning email addresses in our TeacherEase database. The plan requires that all students receive an iPad for school use. Therefore, the PLI fee has been discontinued.
iPads will be distributed for all students at registration.
The dates for registration have been changed to coincide with the plan release. Registration will be in the Grade School gymnasium for all grade levels as follows:
Thursday, August 20, from 3 PM until 8 PM

Friday, August 21, from 3 PM until 8 PM

Saturday, August 22, from 9 AM until 1 PM
Student fees have already been placed on the TeacherEase account for returning students. If you would like to pay them in advance online, feel free to do so. Check or cash can be accepted at registration. Fees for this school year are as follows:
Kindergarten through grade 5: $70.00

Grades 6 through 8: $80.00

High School: $125.00
To expedite the registration process, please have all forms completed before arriving. If you mailed in your forms, you will still need to complete the iPad release form. If you do not have access to a printer, the forms will be available on a table outside of the grade school office daily from 8 AM until 3 PM beginning August 17. You may pick up as many copies as you need prior to registration night. The required forms can be found on the school specific website:
If you are enrolling a student for the first time in our school district (this includes high school), you must bring a certified copy of the student's birth certificate to registration. The birth certificate will be immediately copied and returned to you.
Proof of residency is required for all families this year. This proof will also be immediately photocopied and returned to you. The proof must include the guardian's name and address. Examples are a driver's license, a rental agreement/lease, a recent water bill, or a voter's registration card.
The PLI (iPad) handbook has been updated to reflect all students taking home devices. It is imperative that you read this document with your student(s) so the care, maintenance, and use expectations of the iPad are clearly understood. The handbook can be found on our website - https://core-docs.s3.amazonaws.com/documents/asset/uploaded_file/563796/MPCUD23-PLI-Handbook-2020.pdf
Items specific to High School students:
High School students who signed up for L-TEC need to email Miss Hinson to let her know if they will or will not be attending L-TEC prior to August 17. Her email address is mhinson@mtpulaski.k12.il.us.

A high school student may attend registration with the parent if that student needs to speak to Miss Hinson regarding a schedule change. These consultations will occur on a first come, first served basis, once the family has turned in all registration forms. Alternatively, students may email Miss Hinson to set up an in person appointment to discuss schedule changes. Appointments will begin August 26.
If you have specific questions, you may contact the school offices via phone (8 AM to 3 PM week days) or email:
Grade School ~ 217.792.7220 ~ dlora@mtpulaski.k12.il.us

High School ~ 217.792.7276 ~ tmorgan@mtpulaski.k12.il.us
Although we are facing different challenges, we are looking forward to working with you and your students this school year. Enjoy what is left of your summer!