Our first home volleyball game will be this Saturday, September 10, at 10 a.m. Doors will open at 9:30 a.m. The south-west parking lot will not be ready for cars until Monday, September 12, so guests are encouraged to use off-street parking around the building for this event. Due to this inconvenience, gate admission will not be charged for this home game. We look forward to seeing you Saturday! Go Toppers!
Lockdown drill information


Tuesday, May 17: The Art Show is from 6:00 PM until 8:00 PM in the high school cafeteria. The high school band concert is in the Multipurpose Gym at 7:30 PM. Doors will open at 6:00 PM for the Art Show. Come join us and celebrate the arts at MPHS!

The Spring Concert is at the high school on Tuesday, May 17, at 6:30 PM. Doors will open at 6:00 PM. The event is in the Multipurpose Gym. All spectators should park in the west lot and enter at the "Gym Entrance."

FFA Award Night is tonight at 7:30 PM! Doors open at 6:30 PM. The ceremony is in the multipurpose gym followed by dessert in the cafeteria.

Coming to the play? Only the west "Gym Entrance" doors will be used for the drama production. Be sure to park in the west lot and enter through those doors. Doors unlock at 6:30 p.m. Show begins at 7:00 p.m. Admission is $5 for adults, $3 for seniors, and $3 for students.

Doors unlock tonight at 5:30 PM for our ceremonies. You may use the west "Gym Entrance" or the front lobby entrance. The ceremony is in the main gym. NHS Induction begins at 6:00 PM Senior Recognition & Awards begins at 6:30 PM We hope to see you tonight to celebrate the academic accomplishments of our students!

We'd love to see community members join us for our May activities and events!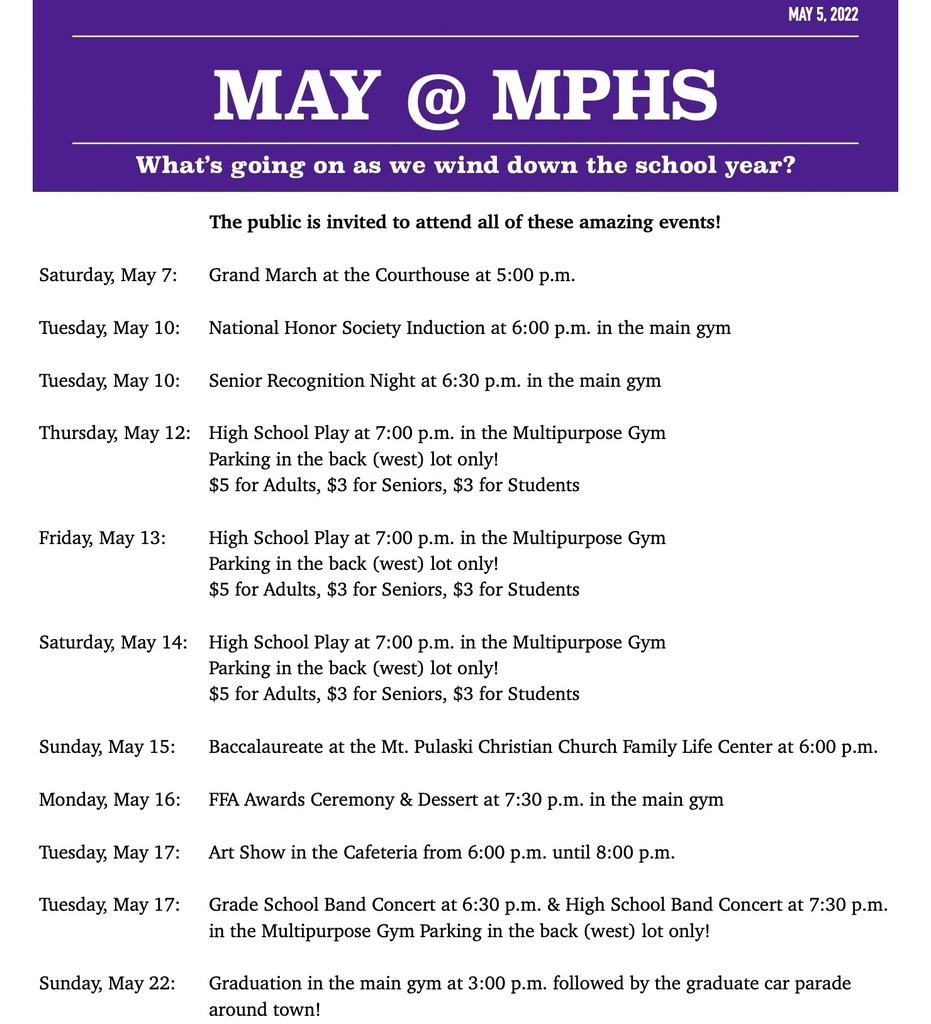 Information for our annual Senior Parade!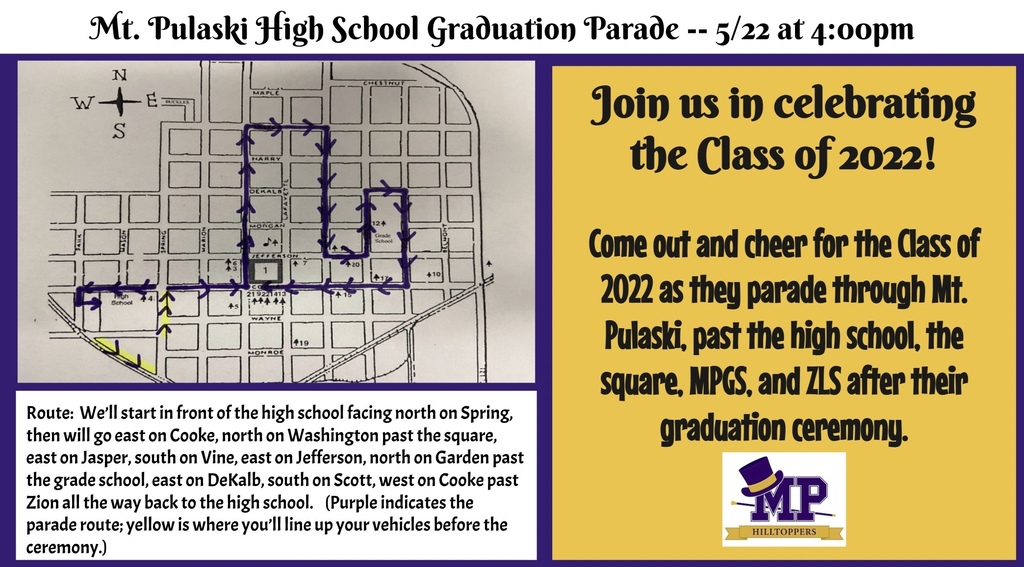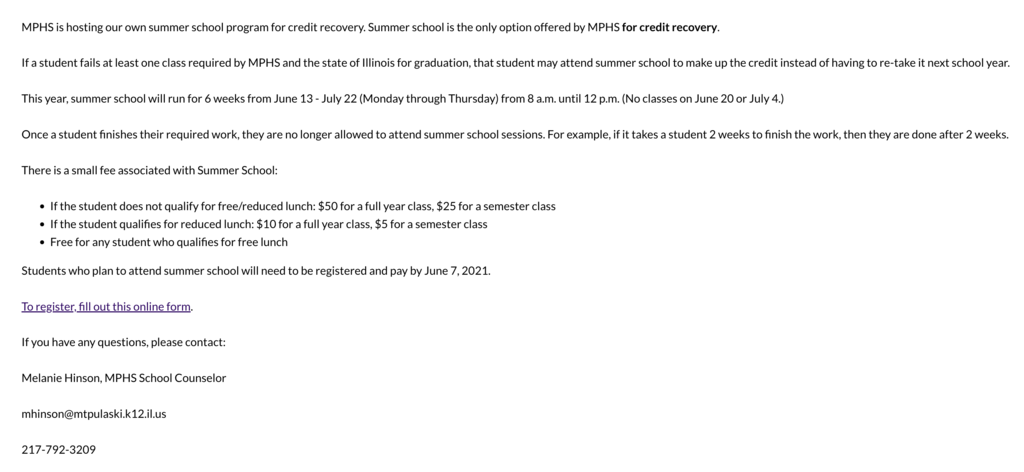 Calling all tractor owners! Join MPHS for Tractor Day which will feature the Class of 2024 Caleb Coogan Memorial Tractor Parade!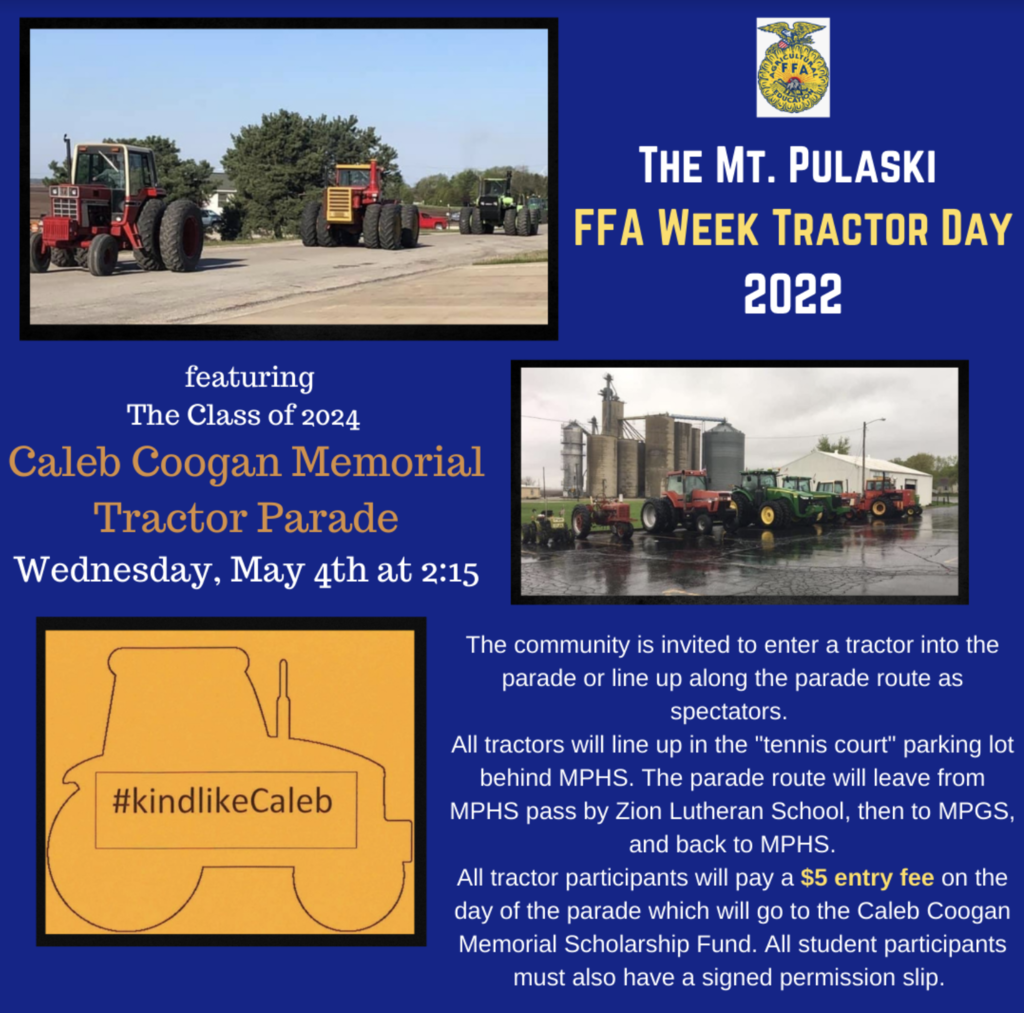 We hope you've enjoyed your break. As a reminder, school resumes this Monday, April 25, at 8:00 a.m. We are looking forward to finishing the year strong!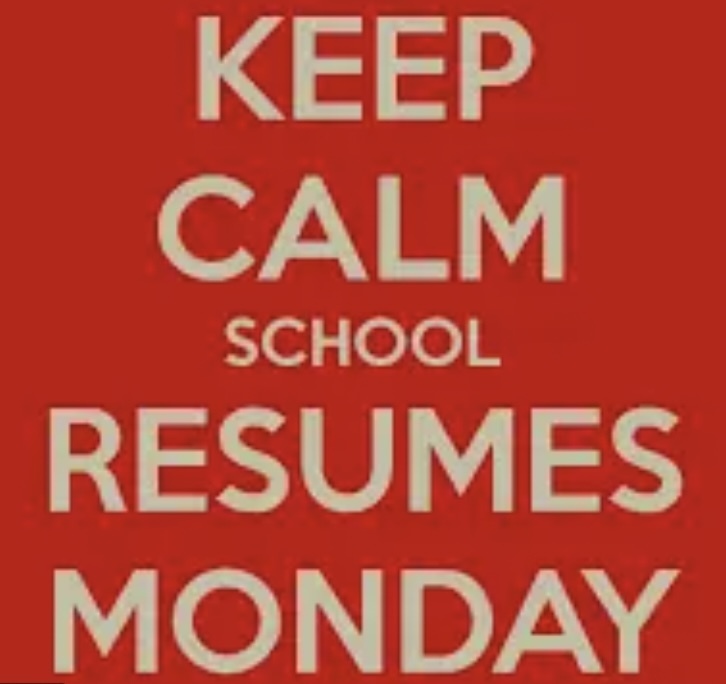 You're invited to join Senator Sally Turner and Representative Tim Butler! They will be in Mt. Pulaski on April 12, for a Coffee and Conversation event and then they will be hosting Storytime at the Mt. Pulaski Library!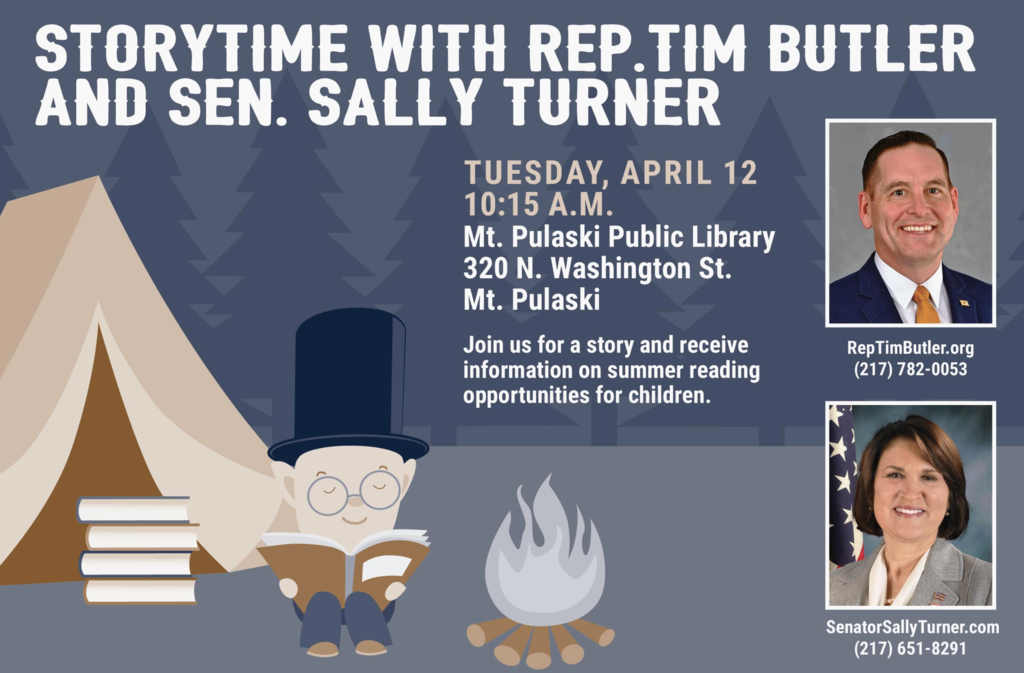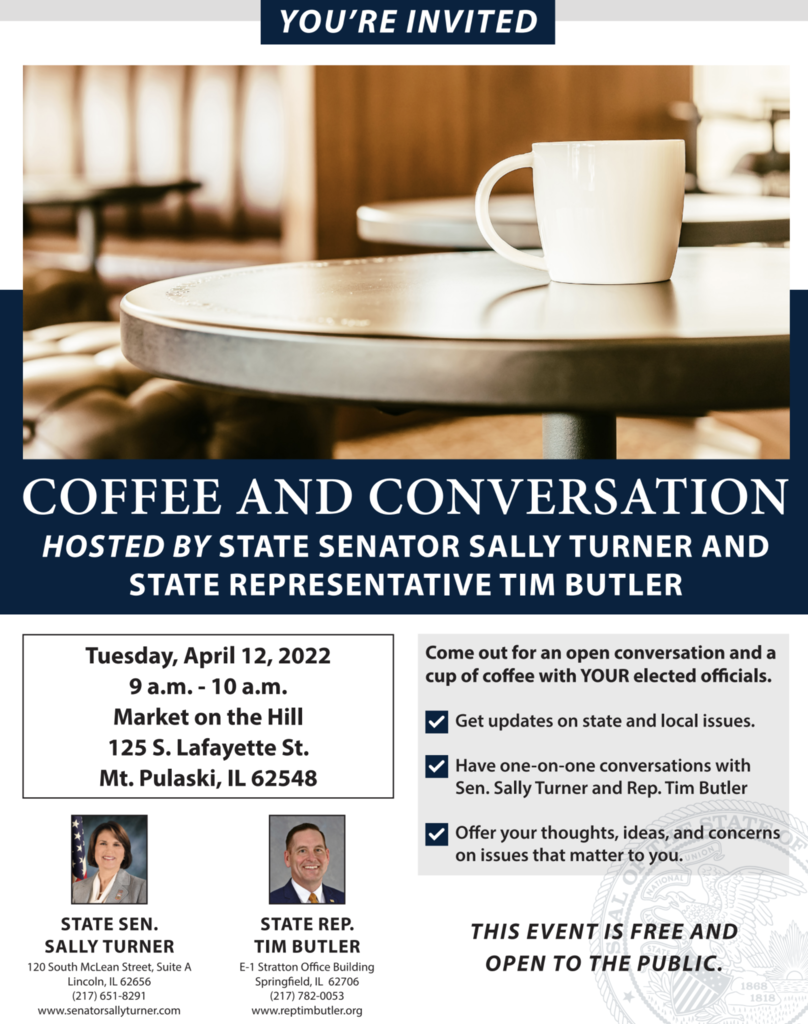 MPCUSD #23 Board of Education - School Calendar for 2022-2023 Adopted March 21, 2022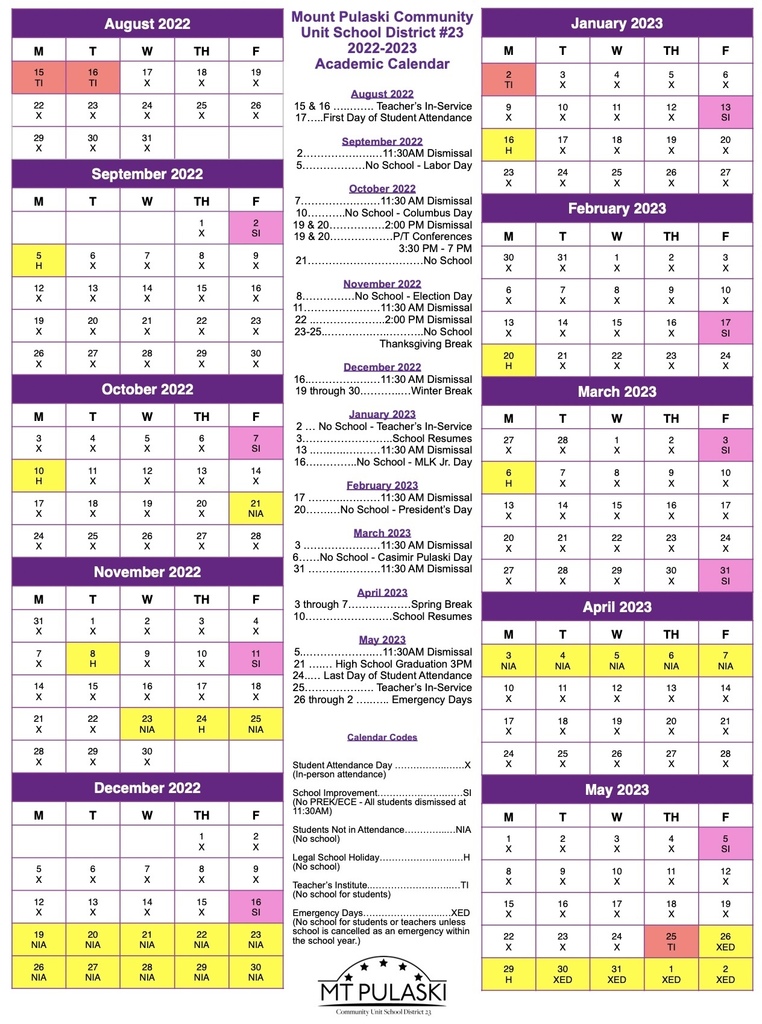 Thursday, February 17 - We are implementing an eLearning day. No in-person instruction. No activities, events or practices. Students & parents should check the email we have on file for further details.